DON'T FORGET TO JOIN OUR MAILING LIST!
We'll send you fun info about:
contests promotions new "stuff" events candy / toy tidbits
and
We'll send you a postcard the month of your birthday to bring in for a sweet treat!
To join our mailing list
just fill out the form below and hit the "email us!" button
(please make sure you fill in the complete 'date of birth' field to be signed up for our birthday club!)
as well as your full address (street, town, & state)
copyright 1982-2023 bobb howard's general store trademark "we sell old candy" all rights reserved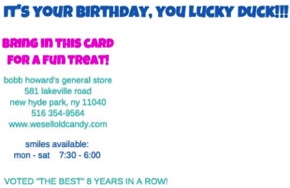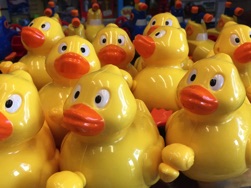 OUR PRIVACY POLICY
very simple.
We do not share your mailing list information with anyone!
we respect your privacy!
We will never give out your email address to anyone without your permission.
We still use "snail mail" for birthday cards, so that's why we ask for your street address...
When we ask for your birthdate (including the year)
it is to advise us as to which mailing list to put you on...
We would feel kind of stupid sending a back to school "free supplies" postcard to a baby boomer
(even though lots of us wish we were back there again!)
and equally foolish sending a nostalgic "new item" mailing to a 6 year old...
LEGAL STUFF
Bobb Howard's General Store has taken every reasonable effort to ensure the accuracy of content provided on this website.
Bobb Howard's General Store makes no warranty, express, implied, or otherwise with respect to accuracy or safety of any items
or information contained within this website, including, but not limited to specification, representation, potential hazard, or price of any item.
We make every effort to provide accurate product information.
Occasionally, there may be information on bobbhowardsgeneralstore.com
that contains inaccuracies, typos or omissions relating to product descriptions, pricing, and availability.
We reserve the right to correct any inaccuracies, errors, or omissions and to update or change any information
without prior notice at any time.
We apologize in advance for any inconvenience this may cause you.
AVAILABILITY AND PRICES ARE SUBJECT TO CHANGE WITHOUT NOTICE